PF 2015
All the best in the year 2015 and enjoy your dogs!
Coursing Champion of the Czech Republic 2014
Mr Frodo made a hattrick of Coursing Championship 2012, 2013 and 2014. In Ptyrov (Czech Republic) he became Best Hound of the day 13.09.2014.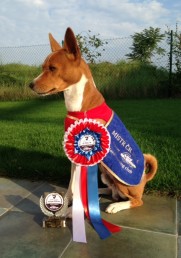 Internantional Champions of Beauty
Both our dogs Orly and Mr Frodo received in Autumn 2014 diplomas of International Champions of Beauty. 
Happy 4th Birthday!
Happy 4th Birthday Ango, Teri, Any, Ruby and Yara!
Axis Mundi Tami`s TamTamy spent the Christmas in her new home and this partnership is worth all efforts. Petra, Jan and Akim gave a loving family to one little basenji girl. Merry holidays to all and all the best in 2014! 
Axi Mundi searches new home
We are looking for a new forever home for our baby Axis Mundi Tami`s TamTamy, who can no longer stay at home in Belgium for illness in her family. Axi aka Yara is spayed, good children, to dogs has to try and no experienced with cats. She is housebroken, crate trained, fully healthy and not problem dog at all. Should you be interested in this lovely basenji girl, please contact me Tato e-mailová adresa je chráněna před spamboty. Pro její zobrazení musíte mít povolen Javascript., i am ready to help to place her to good home asap. 
Duo CACIB Nitra, Slovakia
Double CACIB Show in Nitra, Slovakia was a happy weekend for our dogs. 
Saturday: Orly E1, CAC, CACIB, BOS, New C.I.B. and Mr. Frodo E1, CAC, CACIB.
Sunday: Orly E2, res.CAC, res. CACIB, and Mr. Frodo E1, CAC, CACIB, BOG, New C.I.B.
To sum it up: two basenjis, two days, 3x CACIB and 2x NEW International Champion of Beauty.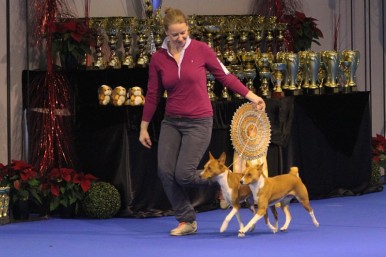 November in Kennel Tami`s TamTamy
1 Month + 2 Basenjis = 3 New Champion Titles finished! One is for Mr. Frodo in coursing/race and both dogs became Czech Champions of BEAUTY.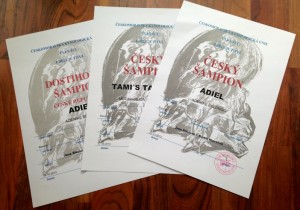 International Dog Show Double CACIB Prague
Orly together with Mr. Frodo won the Couples on Saturday in Prague. They are just a perfect moving couple. The results of both days are as follows:
Orly, Saturday, November 2, 2013: E2, res. CAC, res. CACIB, Sunday, Nov. 13: E2, res. CAC
Mr. Frodo, Saturday: E2, res. CAC, Sunday: E1, res. CAC, res. CACIB. New Czech Champion. 
International Dog Show Budweis, Czech Republic, October 2013
Mr. Frodo won: E1, CAC, CACIB and BOB. Orly became with res. CAC and res. CACIB new Czech Champion. 
Frodo Champion of Work
Frodo became Czech Champion of work yesterday.
Orly almost 6 years old finished the cours 4. out of nine athlets.
Very proud about my basenjis are we :-)
Happy Birthady to A-litter Tami's
Our first litter was born tree years ago. Ango, Axi, Teri, Ruby and Any are all doing very well - Ango and Teri became both champions and the others are also working hard and having fun. Happy Birthday, Darlings
Blog
You can find older news at our blog: